WE DON'T JUST SAY WE APPRECIATE YOUR BUSINESS
WE SHOW IT.
Join an Referral
Program that Offers YOU
Referral Savings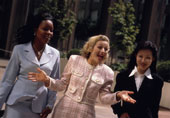 Referral Program
Unlimited Referrals, Unlimited Savings
How many times have you told someone where you bought an outfit, got your hair or nails done? Then they go to that store or salon that you referred them and buy an out fit or get a service? Did that store or salon pay you for that referral sale?
Now you can receive Referral Reward Savings from Referral Sales/Services made by friends, family or associates you've referred.
Why Join GA LA CAR the Referral Program?
The referral program offers YOU personal product and service savings. Reward Savings are given from Referral Sales/Services made online and in-store boutique salon products or services.
The more referrals you make, the more you accumulate Referral Reward Savings. Share information and post recommendations to your social media feed to increase your referral sales.
The more referrals you make, the more Effortless Earnings you may receive. You may use your Effortless Earnings towards purchases or services or you can just receive cash. Act quickly to take advantage of this offer and Create a stream of income now!
Join the program and earn savings from referral sales Today.
GA LA - CAR, we don't just say we appreciate your business–we show it.
Refer a Friend...